How to turn the light on while taking videos on iPhones
Sometimes, your iPhone does not turn on the light by itself while you take videos, here is to manually turn it on.
To turn the flash light on while taking videos on iPhones, swipe up on the camera mode to show a hidden menu, and tap on the light icon at the bottom right. Three light options are available: « Auto », « On », and « Off ».
As I said before, turning on the light while taking a video on an iPhone is very easy to do, but only once you know where to do it. To help you to find it faster, here are the steps to turn on the flashlight on the video mode:
Open your Camera application on your iPhone and select the video mode
Swipe up from the bottom of the screen by putting your finger somewhere at the bottom half, and slide it toward the top of the screen
A new menu appears on your screen, with two buttons. One on the left side and one on the right side.
Tap on the left button to open the flashlight menu
Select « On » to enable the light on your iPhone with the video mode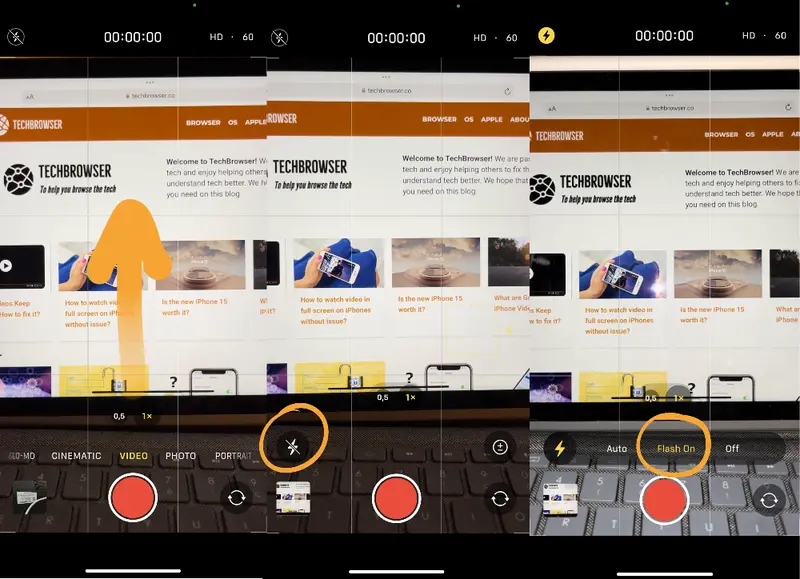 3 flash light options for iPhone videos
You might have seen it, there are 3 different options for the flash light that appears once you've found the hidden menu. It might be obvious for the one of you who are used to the flashlight for the pictures you take with your iPhone, but for the others, here are the meaning of all of the three light options:
« Auto ». Your iPhone will decide if the flashlight needs to be turned on. The phone will analyze information given by the camera sensor to know if there is not enough light, and therefore if the flash needs to be enabled
« On ». The flash light will always be enabled, even if there is way too much light and the flashlight would be useless. You might want to avoid using this unless it's really needed, otherwise, you will forget to disable the flash on sunny days.
« Off ». The flash will always be turned off, even if there is not enough light for the quality of the video to be good enough without a flashlight. 
Conclusion
The must-have light option to take videos on iPhones is the Auto option. Using it, you won't have to bother if you need to enable or not the flash light to take good videos.
But under specific conditions, your iPhone might not choose the good option, and it's only in these cases that you can choose to manually turn on or off the light, by swiping up on your screen.
If the flash light can help you to take better videos, you should also think about using an external microphone.