The Best Bluetooth Remote Shutters for iPhone
Welcome to our hands-on exploration of the finest Bluetooth remote shutters and accessories for iPhone photography. As a passionate photographer and tech enthusiast, I've personally tested and reviewed a selection of products that promise to revolutionize the way you capture images with your iPhone.
Each review is crafted from real-world experience, highlighting the nuances of using these Bluetooth remote shutters with various iPhone models. Join me in uncovering the pros, cons, and unique features of these innovative accessories, all designed to enhance your iPhone photography experience.
Best Overall: Xenvo Shutterbug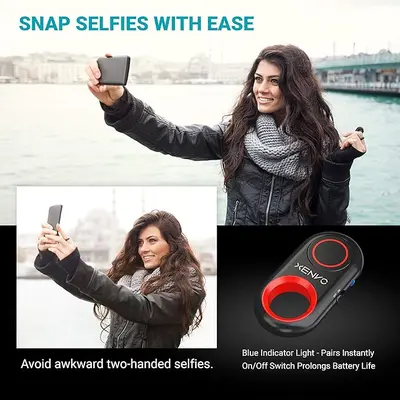 Pros
Wide compatibility with various devices
Extended range
Quick and reliable Bluetooth connection
Compact and portable
Lifetime warranty
Cons
Limited to one device connection at a time
As someone who loves capturing moments through the lens of an iPhone, I've always been on the lookout for accessories that can enhance my photography experience. The Xenvo Shutterbug, a Bluetooth wireless selfie button clicker, recently caught my attention. After spending some quality time with this little gadget, I am excited to share my experience.
Key Features
Bluetooth Compatibility: Effortlessly pairs with iPhone, iPad, Android, Samsung, Google Pixel, and other smartphones and tablets.
Ease of Use: The device connects to your phone in split seconds. Its blue indicator light signals readiness.
Extended Range: Offers a 30 feet range, providing flexibility in taking selfies, group photos, and nature shots.
Design and Portability: Its compact and portable design, complete with a clip, makes it convenient to carry.
Durability: Backed by an iron-clad lifetime warranty, ensuring long-term reliability.
Personal Experience
Capturing Crisp Photos: The Xenvo Shutterbug eliminates camera shake, ensuring razor-sharp images. Whether snapping a quick selfie or setting up a group shot, the remote's responsiveness is impressive.
Versatility: I found it incredibly useful for nature photography, where maintaining a distance from the subject is key. Also, its compatibility with a wide range of devices means it's suitable for various users.
Convenience: The on/off switch is easily accessible, and the device's small size doesn't add bulk to my gear. It's a discreet yet powerful tool that blends seamlessly into my photography routine.
Range: The 30 feet range is more than sufficient. It allowed me to capture shots from angles and positions that would otherwise be challenging.
Dimensions: 4.7 x 2.8 x 1.2 inches Weight: 0.282 ounces Batteries: 2 Lithium Ion batteries included
Cheapest Option: Skoutag Remote Control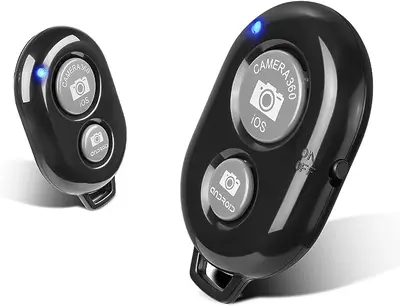 Pros
Broad compatibility with iOS and Android
Long wireless range
Compact design
Efficient power usage with sleep mode
Cons
Limited functionality with some camera apps
Does not seem as durable as other products
Single device connectivity at a time
In my quest to find the perfect accessory for iPhone photography, I recently had the opportunity to try out the Skoutag Wireless Camera Remote Control. This device promises to add convenience and flexibility to your photography, and here's my take on how it delivers on those promises.
Personal Experience
From the moment I paired the Skoutag remote with my iPhone, I was impressed by its ease of use. The pairing process was quick and straightforward, allowing me to start shooting almost immediately. The remote's compatibility with both iOS and Android devices is a huge plus, making it a versatile choice for different users.
The effectiveness of the Skoutag remote truly shines when you're taking selfies, group photos, or even capturing scenes from a distance. Its 30 feet range offers ample flexibility, allowing me to experiment with different angles and compositions without being limited by proximity to my device. This feature is particularly useful for nature photography, where maintaining distance can often lead to more authentic and captivating shots.
Regarding the build and portability, the Skoutag remote is light and compact, making it a breeze to carry around. Its ergonomic design ensures that it's not only easy to handle but also comfortable to use over extended periods. This aspect is crucial for those long photography sessions or when you're on the move and need to minimize the gear you carry.
Another feature that stood out for me was the power efficiency of the Skoutag remote. The device automatically enters sleep mode after 3 minutes of inactivity, which is a thoughtful addition to conserve battery life. This is particularly beneficial during days out when charging options are scarce
Dimensions: 2.17 x 1.3 x 0.43 inches Weight: 0.353 Model Number: P1 Batteries: 1 CR2032 battery included
Tripod & Remote: Andobil MagStick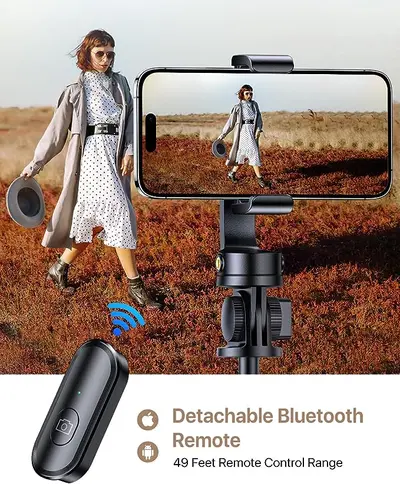 Pros
Versatile with extendable length
Strong attachment with MagSafe
Lightweight yet sturdy build
Wireless remote control included
Highly portable for travel
Cons
Limited usage with Android and non-MagSafe compatible devices
In extremely windy conditions, the lightweight design affect stability
The Andobil MagStick Selfie Stick Tripod stands out as a remarkable accessory for iPhone users, especially those who frequently use a bluetooth shutter remote. This innovative tripod redefines the standards of mobile photography, combining versatility and user-friendly features. After extensively testing this product, here's my detailed review.
Design and Build Quality
The Andobil MagStick, with its robust aviation-grade aluminum and high-toughness PC material, presents a perfect blend of durability and lightweight design. This makes it an ideal match for iPhone photographers who value both strength and portability in their gear, especially when using bluetooth shutter remotes.
Functionality and Features
What sets the MagStick apart is its seamless compatibility with MagSafe, ensuring a strong, reliable connection with your iPhone. This feature is particularly beneficial for those who use bluetooth shutter remotes, as it allows for stable, shake-free photography. The flexibility offered by the 180° neck rotation and 360° head rotation enhances the experience of capturing photos from different angles, a boon for users of bluetooth shutter remotes.
User Experience
Pairing the Andobil MagStick with a bluetooth shutter remote for iPhone photography leads to an unmatched experience. The ease of magnetic attachment and the extended reach of the tripod allow for creative and diverse shot compositions, which is crucial when using remote controls for photography.
Portability
For those who pair their iPhone with a bluetooth shutter remote, the Andobil MagStick's compact design is a significant advantage. It ensures that photographers can easily carry their complete photography setup – iPhone, bluetooth shutter remote, and the tripod – without any hassle.
Enhancing Bluetooth Shutter Remote Usage
Integrating the Andobil MagStick with your iPhone and a bluetooth shutter remote opens up a world of possibilities. The wireless remote control that comes with the MagStick complements the functionality of any bluetooth shutter remote, offering additional convenience and creative freedom.
Dimensions: 2 x 5 x 63.5 inches Weight: 14.4 ounces Model Number: MagStick-01 Batteries: 1 CR2032 battery included
Hand Grip & Remote: Kiorafoto Hand Grip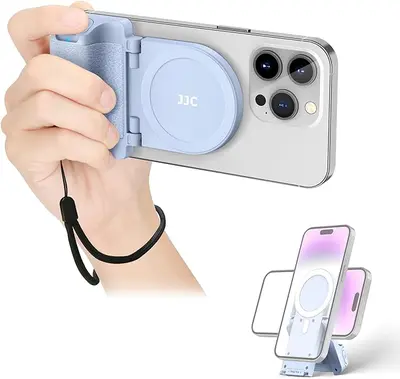 Pros
Strong Magnetic Mount
Flexible Orientation
Tripod Mountable
Detachable Wireless Remote
Serves as a stand and grip
Cons
Less effective in windy conditions
Magnetic effectiveness varies with phone cases
In the world of iPhone photography and videography, the right accessories can make a significant difference. The Kiorafoto Magnetic Smartphone Shooting Holder Hand Grip is one such accessory, designed to enrich the experience of iPhone users, particularly those who frequently utilize a Bluetooth remote shutter.
This Hand Grip can also be used as a Stand and has a detachable Bluetooth remote shutter.
Design and Build Quality
The Kiorafoto Hand Grip's high-quality ABS plastic build, combined with its ergonomic design, makes it an ideal accessory for iPhone users. Its silicone-coated grip provides a comfortable, secure hold, crucial when using a Bluetooth remote shutter for extended photo sessions.
Magnetic Mount for iPhone
A standout feature is the grip's MagSafe-compatible magnetic mount, perfect for securely attaching to iPhones. This robust magnetic attachment ensures that the iPhone remains steady, a critical factor when using a Bluetooth remote shutter to capture images without any shake or blur.
Versatility with Bluetooth Remote Shutter
The grip's orientation adjustment capability enhances the iPhone photography experience, especially when paired with a Bluetooth remote shutter. It allows for quick switching between portrait and landscape modes, ideal for varied photographic compositions. The inclusion of a detachable wireless remote control, compatible with Bluetooth, extends the functionality. It enables iPhone users to effortlessly control their camera's shutter from a distance, making it perfect for group photos, selfies, and more.
Portable and Convenient
For iPhone photographers who rely on a Bluetooth remote shutter, the Kiorafoto Hand Grip's lightweight and compact design is a significant advantage. It ensures ease of transport and use, especially for those who love capturing moments on the go.
Dimensions: 3.35 x 4.92 x 1.1 inches Weight: 3.5 ounces
Choosing the Right iPhone Remote Shutter
Compatibility: Ensure the accessory is compatible with your iPhone model, especially for MagSafe-enabled devices or those requiring Bluetooth connectivity.
Functionality: Consider what you need the accessory for – whether it's for taking selfies, group photos, vlogging, or nature photography. Different products offer varied features, like extended range, magnetic mounts, or tripod functionality.
Portability: If you're often on the move, look for lightweight and compact accessories that are easy to carry around.
Durability: Opt for accessories made from quality materials that can withstand regular use.
Additional Features: Extras like wireless remote shutters, adjustable angles, and extendable lengths can significantly enhance your photography experience.
Budget: Balance your budget with the features you need. Sometimes investing a bit more can significantly improve the quality and versatility of the accessory.
FAQ
Can I use these accessories with an Android device?
Most of the reviewed accessories are compatible with both iPhone and Android devices, but always check the product specifications for compatibility.
Are these accessories suitable for professional photography?
While primarily designed for casual and hobbyist photographers, some of these accessories can be suitable for certain professional uses, especially in content creation for social media.
How important is MagSafe compatibility in these accessories?
MagSafe compatibility offers a secure and convenient attachment for newer iPhone models. If you have a MagSafe-enabled iPhone, it's a valuable feature to consider.
Can the remote shutters control video recording as well as taking photos?
Yes, most Bluetooth remote shutters can control both photo capture and video recording.