Connect an External Mic for video recording on iPhones
Connecting an external microphone to record video can be tricky on iPhones since the jack port is gone, here is how to do it and which mic to choose.
To connect an external microphone to iPhones to record a video without issues, you need to first open the Camera application. Then, use a Lightning to TRRS 3.5 jack to plug your external microphone into your iPhone.
There are 3 different kinds of connectors used by microphones, TRS, TRRS, and XLR. Depending on the port, you will need a different adapter as I explain later.
If you do not have an external microphone yet, you should try this one made by Saramonic, I also review the 3 best external microphones I've used and my iPhone 13 later in this post.

Saramonic Plug&Play Mini Shotgun
$45
Buy on Amazon
Choose the correct adapter to connect an external mic on iPhones
Nowadays, iPhones only have a lightning port available, the headphone jack port has been removed by Apple since the iPhone 7 in 2016. You probably do not want to use an external microphone having a lightning connector as the mic quality won't be as good as other available external mics.
Depending on the microphone you want to use, a different adapter will be needed. Indeed, there are 3 types of connectors used for microphones: TRRS, TRS, and XLR. For each type, you will need at least one, if not two adapters to be able to connect your external mic to your iPhone.
I've tried different adapters and microphones, here are the adapters I recommend using depending on the microphone connector.
TRRS
To connect a TRRS external mic to your iPhone, you need a lightning to TRRS adapter. TRRS port is also known as a headphone jack 3.5mm port, TRRS is the technical name for the port used to connect headphones.
Therefore, you can search for either a lightning to TRRS adapter or a lightning to headphone jack adapter, and as the headphone jack is the most used port, Apple designed an official lightning to headphone jack adapter.

Lightning to 3.5 mm Headphone Jack Adapter
$14.95
Buy on Amazon
I recommend using the official adapter. First, you are certain that the adapter will work with your iPhone, as it has been made by Apple. Moreover, you are also sure that the adapter will continue to work, even if Apple releases an iOS update that has an impact on the lightning port.
If you don't want to use the Apple official adapter, I'm also using this one made by Belkin. The main advantage is that you can still use the lightning port while charging your iPhone, or while using a third device that needs this lightning port.
Belkin RockStar™ Lightning to 3.5mm Audio Cable + Audio Charger
$29.95
Buy on Amazon
TRS
If TRRS mic exists, there is not so many good microphone using a TRRS port available on the market. So you might be looking for how to connect an external microphone on your iPhone using a TRS port.
Unfortunately, I could not find a great lightning to TRS adapter, the only one I've tried was really bad. Therefore, you have to use two adapters, the first one will be a Lightning to TRRS 3.5mm, and the second one a TRRS 3.5 mm to TRS 3.5 mm.
I'm using this one I've got on Amazon, quite cheap but still great and reliable.

DUKABEL DC4 3.5mm TRS to TRRS Adapter Cable
$8.99
Buy on Amazon
XLR
For XLR microphone, it even get worst. Not only you won't find any Lightning to XLR adapter, but you also won't find a TRRS to XLR adapter, you will have to use 3 different adapters to be able to use an XLR microphone on an iPhone.
First the TRRS to Lightning adapter, then the TRS to TRRS adapter, and finally the XLR to TRS adapter. I know, it's quite a mess, but you won't have the choice, unfortunately.

VITALCO XLR Female to 1/4 Jack Stereo Male Mic Adapter
$11.90
Buy on Amazon
Here is a table resuming the adapters needed depending on the microphone connection type
The adapters needed to connect an external mic to an iPhone depending on the microphone connector
Microphone port
Number of adapters
Adapters
TRRS
1
TRRS to Lightning
TRS
2
TRRS to Lightning
TRS to TRRS
XLR
3
TRRS to Lightning
TRS to TRRS
XLR to TRS
The best external mic to record videos on iPhones.
I've tried many different microphones while playing video games with friends, but also to record videos on my iPhone. Once I started using an external microphone for my video recording on iPhones, the audio quality improved so much.
Here are 3 external microphones that you can use on your iPhone. I've tried every single one, and they are all good, depending on your needs, you might want to choose one or another. In any case, avoid using a Bluetooth microphone, the audio quality is really bad using them.
BOYA by-M1 Pro Lavalier: A cheap microphone
If you just want to try to record video using your iPhone, which you are not used to but still want to record with good audio quality, you can go with this Lavalier external microphone made by Boya. It's a quite cheap microphone, but still better than many other external mics available on the market.
The produced audio is great, and there are two buttons. One to decrease the audio level by 10dB, and the other one to either use the preset settings Boya added or the settings set on your iPhone. For that price, I found the quality really great.
To use this microphone on your iPhone, you will need the Lightning to TRRS 3.5mm jack adapter. A Lavalier microphone is used to record someone speaking, it will work to record multiple people and the environment, but the next external mic will be way better for this.

BOYA by-M1 Pro Omnidirectional Lavalier Microphone
$25
Buy on Amazon
Saramonic Plug&Play Mini Shotgun: Made for your iPhone
If you are planning to record a video of multiple people, or where you also want to record the environment where you are, you don't want to use an external lavalier microphone. Instead, you can use this Saramonic directional microphone, specially made to be used on a smartphone.
This microphone has been my preferred one for so long, I found my voice, and the voices of the people I was interviewed to be so clear. If it was easier to use it when iPhones still had the 3.5mm jack port, you can still use it with a TRRS to Lightning adapter without any issue.

Saramonic Plug&Play 3.5mm TRRS Mini Shotgun
$45
Buy on Amazon
Rode VideoMic: The best microphone you can find.
Every professional recording video agrees on one thing, the Rode VideoMic NTG is the best external microphone you can find on the market to use with your iPhone, but it's also more expensive than the previous ones.
This microphone is way better than any other one, the audio quality is so good that you won't want to use any other microphone, ever. Since I bought it, I have stopped looking for other microphones.
The best thing about it is whatever device you are using to record your videos, an iPhone, a camera, or a computer, this microphone can be used and will provide the best audio quality. If this is not your first try, and you know what you are doing, buying this microphone will bring your videos to another level.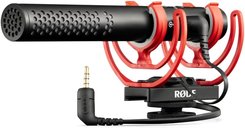 Rode VideoMic NTG Camera-mount Shotgun
$249
Buy on Amazon
How to record a video on iPhone using an external mic
First, open the camera application on your iPhone, doing this first can help to fix issues. Select the video recording mode on the application, and then plug in your microphone using the correct adapters if needed. Tap on the red button to record a video.
It's not difficult, but there are still a few more things to know. Regarding audio settings, there is only one available parameter, stereo sound recording. Go to Settings > Camera and check that Record Stereo Sound is enabled.
Depending on the mic you are using, some settings can also be set on the microphone itself. Check if there is any button or any software you can use to set the parameters, it can improve the audio quality.
On the Camera application, if video is the most used mode to record video, it's not the only one. Apple introduced the new Cinematic mode on iOS 15. This mode can be used to record a more professional video or short movie, as the image will be focused on the most important subject. Just give it a try!
What to do if your external mic does not work on your iPhone?
I've already seen issues with some of my external microphones and my iPhone 13, sometimes the mic does not work as expected. Here are two things you can try to fix the issue.
Start your Camera app first
Many times, starting the camera application on my iPhone and only then plug-in the external microphone fixed the issue.
When you start the camera application, and select the video mode, the iOS system is sometimes using the iPhone microphone, even if there is any other mic available. By plugging your external mic only once the app is started, iOS will switch to this microphone in any case.
Connect the adapters using a different order
If you need to use adapters to plug your mic in your iPhone, you might want to try to plug them in a different order. It did not always help me to fix the issue, I guess it depends on the microphone you are using.
For example, if you are used to plugging your microphone in your adapter first, and then the adapter into your iPhone, try to plug the adapter into your iPhone first and only then plug the microphone in the adapter.
Other ways to fix the issue
There are other ways to fix the issue, but you might have already tried them. Here is a short list:
Restart your iPhone
Check if your microphone is working on another device
Try using a different adapter if used
Record the video using a different application