The Best Backup Cameras for iPhone
In today's fast-paced world, the safety and convenience offered by backup cameras for vehicles have become increasingly important. In this article, I give you the best backup cameras designed for iPhone users that I could used on my different vehicles. Interestingly, while these cameras are often referred to as 'Bluetooth' backup cameras, they primarily use Wi-Fi connectivity rather than Bluetooth. This distinction is important to understand when selecting the right camera for your needs.
The term 'Bluetooth' in this context is commonly used to denote wireless connectivity, which these cameras certainly provide. However, they utilize Wi-Fi connections to link the camera with your iPhone. This choice of technology offers several advantages, such as a more stable and longer-range connection, which is crucial for real-time video streaming. The user experience remains seamless and intuitive, akin to what one might expect from a Bluetooth-connected device.
Despite the technical difference in connectivity, these Wi-Fi-enabled backup cameras offer the same user-friendly, wireless convenience that you would expect from a Bluetooth device. They are designed to integrate effortlessly with your iPhone, providing easy installation, high-quality video feeds, and reliable performance.
In this article, we will review several models, highlighting their features, pros and cons, and technical specifications. Our goal is to guide you through choosing the best backup camera for your iPhone, ensuring safety, convenience, and compatibility. Let's delve into the world of these innovative devices and find out which one best suits your needs.
The Best Overall: LASTBUS Backup Camera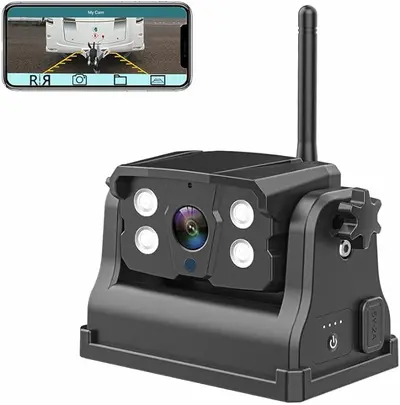 Pros
Strong Magnetic Base
Wireless Strong Wi-Fi Signal
Long-lasting rechargeable battery
IP69 waterproof
Cons
Requires manual connection each time
Indicator lights could be brighter for better visibility
I recently had the chance to test out the Magnetic Wireless Backup Camera by LASTBUS, which I must say, is a game-changer for iPhone users looking for an efficient and reliable backup camera solution. This product, designed with convenience and ease of use in mind, stands out as the 'best overall' choice for those in need of a Bluetooth backup camera for their iPhones.
Design and Build Quality
The LASTBUS backup camera boasts a compact and robust design, ensuring durability and ease of handling. Its magnetic base is one of its standout features, allowing for effortless attachment to any metallic surface on your vehicle. This design choice not only simplifies the installation process but also offers flexibility in terms of positioning the camera for the best possible view.
Performance and Features
Performance-wise, the LASTBUS camera delivers impressively. It generates its own unique Wi-Fi signal, same way as a Bluetooth connection (independent of the internet), enabling a stable connection to your iPhone. This feature ensures a seamless and real-time view from the camera, which is crucial when maneuvering in tight spaces.
The camera's built-in 9600mAh rechargeable lithium-ion battery is a significant plus, eliminating the need for constant power connections and offering a considerable amount of usage time before needing a recharge. Additionally, the wide signal range, facilitated by an external antenna interface, enhances the overall reliability of the camera, providing strong and stable signals even from the rear of large vehicles like trucks or RVs.
A crucial aspect of any backup camera is its ability to function in various weather conditions and during night-time. The LASTBUS camera excels in this area with its IP69 waterproof rating and advanced night vision capabilities. These features ensure the camera's functionality in rainy conditions and provide clear visibility in low-light situations.
User Experience
Setting up and using the camera is remarkably straightforward. Its intuitive design and user-friendly app interface make it easy for even those not technologically savvy. The ability to flip the camera view via the app is a thoughtful addition, allowing it to be used as a front-view, side-view, or rear-view camera.
Brand: LASTBUS Compatible Devices: iPhone, iPad, Android Battery: 9600 mAh lithium-ion Waterproof Rating: IP69 Nigh Vision: Infrared LED lights Wireless Signal Range: Extended with antenna
Cheapest Option: YEOIZO - Plate Camera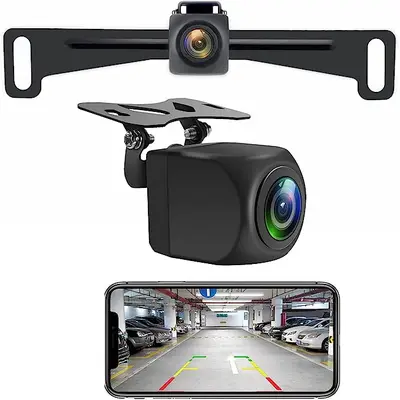 Pros
Affordable price point
Easy installation with license plate mounting
720P HD resolution
Wide 160° viewing angle
Cons
Connection may need manual reconnection each time
Image quality may not match higher-end models
As someone who's always on the lookout for budget-friendly yet high-quality gadgets, I was intrigued by the YEOIZO WiFi License Plate Wireless Backup Camera. This device promises to add convenience and safety to your driving experience without breaking the bank. Let's delve into what makes it the "cheaper" option among the Bluetooth backup cameras for iPhones.
Design and Build Quality
The YEOIZO backup camera features a sleek design that integrates seamlessly with your vehicle's license plate. It's not just about aesthetics, though; the camera is built to withstand various weather conditions, boasting an IP68 waterproof rating. This durability ensures the camera's longevity and reliability, a crucial aspect for any car accessory.
Performance and Features
The camera offers a 720P HD resolution, ensuring a clear and crisp image on your iPhone. The 160° wide viewing angle is a standout feature, providing an expansive view and reducing blind spots significantly. This broad view angle makes reversing and parking maneuvers much easier and safer.
One of the most impressive features is its 5G WiFi connectivity, which ensures a stable and lag-free connection to your iPhone. This WiFi feature means there's no need for complex wiring or setup; you simply connect your phone to the camera's WiFi, and you're good to go.
Moreover, the camera also supports night vision, a critical feature for low-light conditions. Whether it's a dark parking lot or a poorly lit street, the YEOIZO camera gives you a clear view behind your vehicle.
User Experience
Installation of the YEOIZO camera is straightforward. The camera mounts directly onto your license plate, making it an unobtrusive addition to your car. The user interface on the dedicated app is intuitive, making it easy to view and control the camera from your iPhone.
Brand: YEOIZI Resolution: 720P HD Viewing Angle: 160° Waterproof Rating: IP68 Connectivity: 5G, Wi-Fi Compatible Devices: iPhone, iPad, Android Night Vision: Supported
Best Battery Life: DoHonest Wireless Backup Camera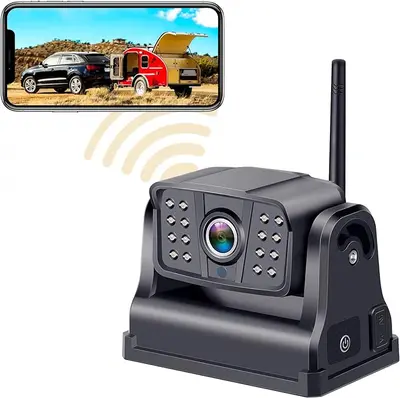 Pros
Superior battery life up to 20 hours
Easy to install with a strong magnetic base
High-Quality 1080P resolution and effective night vision
Wide 150° viewing angle
Cons
Manual reconnection each time
Slightly bulkier compared to other models
Having personally tested the DoHonest Wireless Bluetooth Backup Camera Magnetic, I can confidently say it stands out for its extraordinary battery life, among other impressive features. This product is a boon for anyone looking for a reliable and long-lasting wireless backup camera for their iPhone.
Design and Build Quality
My first impression of the DoHonest camera was its practical and sturdy design. The strong magnetic base allowed me to easily attach it to various metallic surfaces on my vehicle, offering great flexibility in positioning. The build quality struck me as durable and dependable, exactly what one would need in a car accessory.
Performance and Features
What really sets this camera apart is its battery life. During my tests, the 9600mAh battery consistently provided up to 20 hours of operation on a full charge, which is a significant advantage over other models I've tried. This extended battery life is particularly useful for long road trips or when regular charging isn't an option.
The camera's 1080P resolution and 16 IR night vision lights ensured that the image quality was crisp and clear, both during the day and at night. I found the 150° viewing angle to be quite expansive, offering a comprehensive view that greatly aided in safe reversing and parking.
I was also impressed with the camera's wireless signal strength. Even when I mounted it on my RV, the signal remained strong and stable, ensuring a continuous and clear view on my iPhone.
User Experience
Setting up the camera was a breeze. The wireless and magnetic design meant I could easily move it between vehicles without any hassle. The app's user interface was intuitive, allowing me to effortlessly control and view the camera feed on my iPhone. The flexibility of moving the camera without needing to reinstall it each time was a huge plus, especially since I often switch between different vehicles.
Brand: DoHonest Resolution: 1080p HD Viewing Angle: 150° Night Vision: 16 IR lights Waterproof Rating: IP69 Compatible Devices: IPhone, iPad, Android
Compact Camera: MHCABSR Backup Dash Cam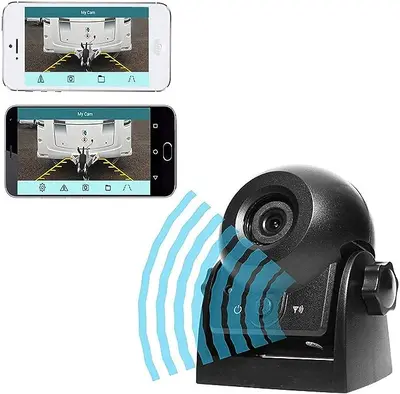 Pros
Compact and discreet design compared to others
Easy installation with a strong magnetic base
Clear night vision up to 25 feets
IP68 Waterproof
Cons
Resolution is not HD (640x480)
Limited to a 120° viewing angle
I recently had the opportunity to personally test the Bluetooth Backup Dash Cam by MHCABSR. This compact camera, designed for use with smartphones including iPhones, offers an array of features in a small package. Here's my take on its performance and usability.
Design and Build Quality
The MHCABSR camera impressed me with its sleek, compact design. It's small enough to be unobtrusive but sturdy enough to handle the rigors of daily use. The IP68 waterproof rating is a testament to its durability, ensuring it can withstand harsh weather conditions.
Performance and Features
Upon testing, the camera's 640x480 resolution provided clear and adequate image quality for most backup situations. While it may not be HD, the resolution is sufficient for safety and maneuvering purposes. The 120° viewing angle gave me a broad enough view to cover the essential areas behind my vehicle.
The night vision capability, powered by 12 IR LEDs, ensures visibility up to 25 feet even in total darkness. This feature was particularly useful during my evening tests. Additionally, the camera's wireless connection was stable and easy to set up, transmitting live images to my phone seamlessly.
What I found most convenient was the magnetic base, allowing for quick and easy attachment to any metallic part of the vehicle. This feature is ideal for those who prefer a hassle-free installation without the need for permanent mounting.
User Experience
Installing and using this camera was straightforward. The process of downloading the app and connecting the camera to my iPhone was intuitive and quick. The magnetic mount made it easy to move the camera between different vehicles, a plus for someone who drives multiple cars like myself.
Resolution: 640x480 pixels Viewing Angle: 120° Waterproof Rating: IP68 Night Vision: 12 IR LEDs, up to 25 feet Compatible Devices: IPhone, Android Mount: Magnetic base
Buying Guide for Bluetooth Backup Cameras for iPhones
1.Compatibility with iPhone
Ensure the backup camera is compatible with iOS devices. Look for cameras offering a dedicated app for iPhones for seamless connectivity and control.
2. Camera Resolution
Higher resolution cameras provide clearer, more detailed images. While 720P is adequate, 1080P offers superior image quality.
3. Viewing Angle
A wider viewing angle covers more area behind your vehicle. Look for cameras with at least a 120° angle; however, 150° or more is ideal.
4. Night Vision
Essential for clear visibility in low-light conditions. Ensure the camera has infrared (IR) night vision capabilities.
5. Waterproof Rating
A higher IP rating (like IP68 or IP69) ensures the camera is more durable and can withstand harsh weather conditions.
6. Battery Life
If opting for a wireless, battery-powered model, consider the battery life. Longer battery life means less frequent charging.
7. Installation Ease
Look for Bluetooth cameras that are easy to install. Magnetic mounts can be a plus for quick setup and flexibility.
FAQ
Can Bluetooth backup cameras be used with all iPhone models?
Most Bluetooth backup cameras are compatible with a wide range of iPhone models. However, it's important to check the specific requirements of the camera, especially the iOS version supported.
Are wireless backup cameras difficult to install?
Many wireless backup cameras are designed for easy installation, often not requiring professional help. Models with magnetic mounts are particularly user-friendly.
How important is the waterproof rating for a backup camera?
The waterproof rating is crucial, especially for cameras mounted outside the vehicle. It ensures the camera's functionality in various weather conditions, including rain and snow.
Do backup cameras record continuously like dash cams?
Generally, backup cameras do not record continuously. They are designed to provide live feed while reversing or parking. Some models may have recording capabilities, but it's not a standard feature.
Can these cameras be used for vehicles other than cars?
Yes, many Bluetooth backup cameras are versatile and can be used for different types of vehicles like RVs, trucks, and trailers. Check the product specifications for any size or use limitations.