How long is an iPhone Charger?
I've made all the measurements of the standard iPhone charger, including the cable, and took photos of it.
The official Apple iPhone charger is 3.27 inches long, or 8.30 cm, and the standard iPhone Cable Charger is 3 feet (1 meter) long.
To answer this question correctly, I've made the measurements of the original iPhone Charger that I bought myself. I've measured all the dimensions, length, height, and width. I also measured the cable Apple is selling on its website, which is the standard cable.
I've taken pictures of the measurements, don't forget to add a link if you want to share them elsewhere.
How long is a standard iPhone Charger?
So, a standard iPhone Charger, the original one Apple is selling and that you can find here, is 3.27 inches, or 8.30 meters long. This is the total length of the charger, the part going into the power outlet, is x feet long (x meters), which means that the charger has a length of x feet (meters) once plugged into an outlet.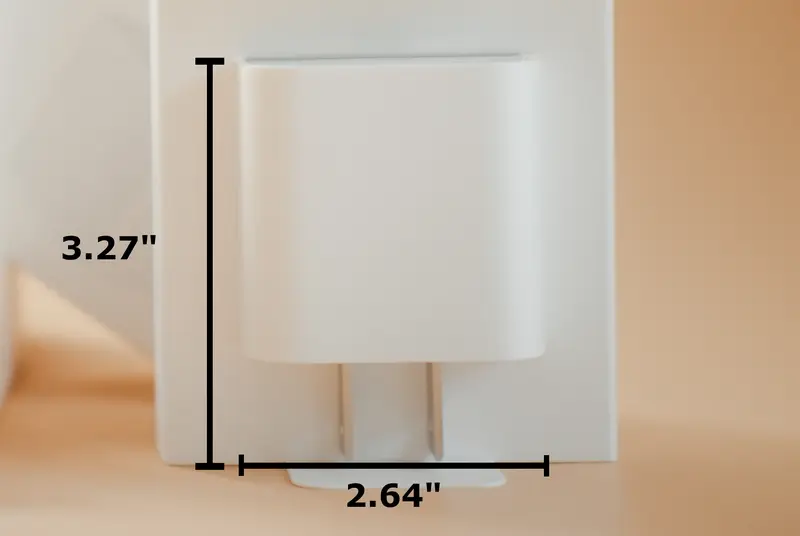 I've also measured the height of the iPhone charger, which is 1.26 inches (3.20 cm), and the width of the charger is 2.64 feet (6.70 cm).
So dimensions of the new iPhone charger are 2.64 x 1.26 x 3.27 inches. Old iPhone chargers were a little bit shorter.
That's it, now you will be able to tell if your charger is the official one, or if it will fit behind your desk. In comparison, the best iPhone charger, by Belkin, is 1.58 inches (4.0 cm) long.
How long is a standard iPhone Cable Charger?
Knowing how long is the normal iPhone charging cable can also be useful, I've also made measurements myself to make sure I had the good one. The standard iPhone Cable Charger should be 3 feet (1 meter) long.
It's quite short, too short for many of us. I did buy another one from Belkin, which is 10 feet (3 meters) long, and definitely more comfortable to use.
Why is the iPhone charger cable length so short?
Most of the time, you don't need a long charger cable to charge your iPhone, it's just need to be long enough to put it on the table next to the outlet. But if you want to use your iPhone while charging, it can be too short for you. I could not use the standard cable to use my iPhone in my bed in the evening.
But think about it, if Apple could sell only one type of charger cable, don't you think that 3 feet is the best possible length? It's long enough to charge it almost everywhere, but still short enough to fit in your pocket, or easily in your bag.
Yes I did buy another iPhone charger cable, I'm sure a lot of you did the same. But the one I bring with me everywhere, is the one from Apple.
Moreover, It's less expensive for Apple to sell shorter charger cable. First, as they are using the good materials to make their products, shorter cable length mean less cable, meaning cheaper product.
Also, as they need to ship millions of products over the world, shorter cable means shorter package box. It makes a huge different for them, that's mainly the reason why they removed the charger in their package while selling iPhones.