The 5 best White Chromebooks
You are looking for a white Chromebook but do not know which one to choose. Here are 5 of them, with different brands.
There are not many white Chromebook on the market, most of them are black only. But in my opinion, there are more beautiful even if they are dirtier. I've made many searches to find all the available white Chromebooks on the market and compare them to tell you only about the best ones. I've tried to choose different ones with different screen sizes and different brands. I hope you will be able to find the Chromebook of your dream, maybe the Chromebook will choose you.
Acer White Chromebook R11 Convertible 11.6"
I'm sure you already know the brand Acer, they make computers for many decades now. They are focusing on cheap computers, trying to make the best computer at a cheap price. Acer has many Chromebooks available on the market today, the one I choose to present here is the R11 Convertible with an 11.6 inches display.
The best part of this white Chromebook is the touch screen, you can convert the laptop to a tablet. As Chrome OS, the operating system on Chromebooks, give you the opportunity to install any application available on the Google Play Store, the touch screen will allow you to use these applications without any issues. You can play your favorite mobile game on this Chromebook, even if you need a touchscreen.
The specs of this Chromebook are good enough but you can find better ones on other Chromebooks. You will still be able to run all the applications that you want to, you might only have issues if you want to edit a video or stream with OBS for example. This Acer white Chromebook only has a 32 GB SSD, you could also need external storage if you want to store more documents locally.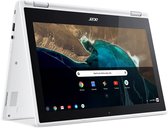 Acer White Chromebook R11 Convertible 11.6 inches
$439.99
Buy on Amazon
HP Chromebook 14" Snow White
Another laptop brand trying to make the best computer at the cheapest price is HP. They do not have many white Chromebooks available, here is one of them, the HP Chromebook Snow White with a 14 inches display. It's an affordable laptop with good specs, you won't have trouble using it for your daily tasks or as a student.
The color of this Chromebook is a very beautiful Snow White that we do not see very often, making it unique. You won't be able to convert it to a table, but there is an option to have a touch display. 14" is better to watch films and videos in my opinion, it's way more comfortable.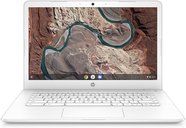 HP Chromebook 14 inches Snow White
$279.99
Buy on Amazon
HP Chromebook 11" Snow White
HP did make two versions of their Snow White Chromebook, and the second one is coming with a smaller display of 11 inches. As it's smaller, it's also cheaper than the 14" version but it is also a more lightweight Chromebook.
You might want to choose this one if you are looking for a small Chromebook white that you want to carry with you everywhere, it also have a great battery that will last more than a full day.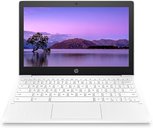 HP Chromebook 11 inches Snow White
$198.90
Buy on Amazon
Lenovo Chromebook Flex 3 11" Blizzard White
Lenovo also has a White Chromebook among all the Lenovo Chromebooks available on the market. It's a small laptop with an 11 inches display, and 64 GB of storage which is more than the usual 32 GB storage we can see of the average Chromebook. The Blizzard White color is very beautiful, Lenovo did a great job, it's one of my favorite laptop brands, even if their laptop can be more expensive than HP or Acer, their Chromebooks are better in my opinion.
This one is also convertible to a tablet, you can flip it in a second and the touch display is ultra-responsive, making the tablet mode experience even more awesome. A must-have if you are planning to use a lot of Android applications on your Chromebook.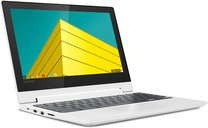 Lenovo Chromebook Flex 3 11 inches Blizzard White
$319.99
Buy on Amazon
ASUS Chromebook Flip C433 14"
I tried to find other brands making white Chromebooks, but unfortunately, I could not. But while I was doing searches in my white quest, I found this beautiful Chromebook made by ASUS. It's not white but silver blue, a very unique color that you won't find again.
This ASUS Chromebook Flip has a 14 inches touch screen display and can be fully converted to a tablet. It has better specs than the other Chromebooks presented here, 8GB of RAM, and a powerful Intel CPU. ASUS is a brand famous in the gaming space, this Chromebook is the best choice if you want to perform tasks needing higher hardware resources, like playing games or streaming using OBS on your Chromebook.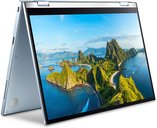 ASUS Chromebook Flip C433 14 inches
$399.99
Buy on Amazon