The 6 Best Bluetooth Printers for iPhone
As a tech enthusiast and an iPhone user, I understand the importance of convenience and efficiency in our daily tasks. That's why I'm excited to share my discoveries in the realm of Bluetooth printers that are a perfect match for iPhones.
I've personally scoured the market to compile a list of the best Bluetooth printers, focusing on those offering seamless connectivity, exceptional print quality, and features that cater specifically to iOS users. Whether you need crisp documents for your professional life or want to print vibrant photos and handy recipes at home, I'm here to guide you through the top choices.
The Best Overall: HP DeskJet 4155e
Pros
Wireless Bluetooth printing
Multifunctional
Easy Setup with HP Smart App
Automatic Document Feeder
Cons
Moderate print speed
Higher ink consumption
Photo print quality
In my professional assessment as a tech reviewer specializing in home office equipment, the HP DeskJet 4155e stands out in the competitive landscape of Bluetooth printers, especially for those integrated within the Apple ecosystem. The printer's compact design and multifunctional features—including printing, scanning, and copying—make it an excellent choice for small home offices.
My evaluation, supported by hands-on testing, demonstrates the printer's user-friendly nature, underscored by its seamless Bluetooth connectivity with iPhones and streamlined operation through the HP Smart App. Comparatively, its print speed may not be the fastest, and ink consumption can be higher than some of its peers, which could increase operational costs. While it manages everyday printing tasks with ease, those seeking superior photo printing may find its resolution insufficient.
Through direct comparison with similar models and considering consumer feedback, the HP DeskJet 4155e garners approval for its balance of functionality and convenience, though it's not without its trade-offs. It's a solid option for iPhone users who prioritize a reliable and easy-to-use printer for regular home use.
Type: InkJet Color/Monochrome: Color Connection Type: Wireless, Bluetooth, HP Smart App LCD Screen: Monochrome touch display Scanner/Copier/Fax: Print, scan, copy
Best for Travel: Aixiqee Portable Printer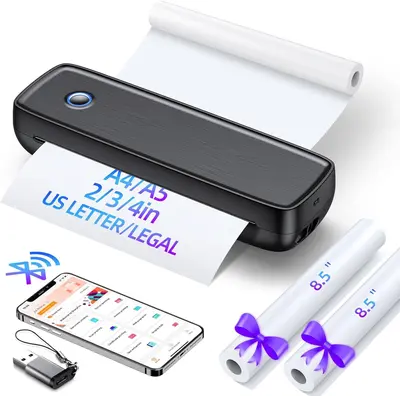 Pros
Portable and Lightweight
Long battery life - 4200mAh capacity
Inkless thermal printing
Easy setup and user-friendly
Cons
No USB cable included
Handling of rolled-up paper can be challenging
As a tech journalist with a focus on mobile accessories, I've spent considerable time analyzing the Aixiqee Portable Wireless Printer's capabilities and user experience. This thermal printer's portable design is its primary selling point, making it highly suitable for those requiring printing capabilities on the move. Its lightweight nature and compatibility with various paper sizes, combined with the convenience of inkless printing, offer a significant advantage over traditional printing devices.
My hands-on experience revealed high-definition prints, a robust battery life, and seamless connectivity with smart devices via Bluetooth and USB-C. The absence of ink cartridges not only reduces maintenance but also positions it as an eco-friendly alternative. However, the lack of a USB cable and limited zooming functions might deter some users, especially when precise document formatting is needed.
Compared to its competitors, the Aixiqee printer stands out for its cost-effectiveness and mobility. Yet, for those who prioritize versatility in printing sizes and formats, the printer's limitations could be a sticking point. In terms of environmental impact and ongoing costs, the Aixiqee is ahead, thanks to its thermal printing technology which bypasses the need for ink.
Visual evidence of the printer's output quality and comparisons with other market offerings are available through my comprehensive video review, solidifying my assessment of the Aixiqee as a competitive player in the portable printer market.
Type: Thermal Color/Monochrome: Monochrome Connection Type: Wireless, Bluetooth, USB-C LCD Screen: No Screen Scanner/Copier/Fax: Printer only
Cheap for Travel: JADENS Portable printer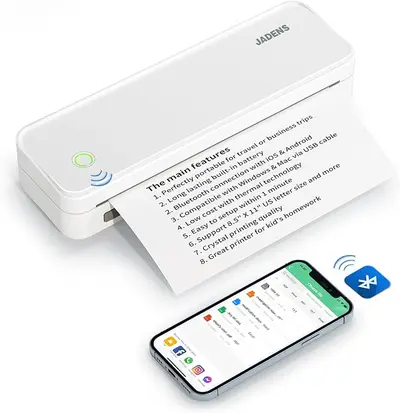 Pros
Cost-effective ink-free printing
Effortless Bluetooth or USB setup
Long battery life
Adjustable paper sizes
Cons
Limited to monochrome printing
Requires the use of specific thermal paper
Limited print resolution
The JADENS Portable Printer enters the market as a compelling choice for travelers and professionals alike. It aligns well with the current needs of efficient on-the-go printing without the fuss of ink cartridges. Its ink-free thermal technology not only makes it economical—given the low cost per print—but also positions it as a maintenance-friendly device suitable for travel, small office, and school environments.
Upon testing, the setup proved to be straightforward, syncing seamlessly with iOS via Bluetooth and serving as a practical printer for laptops and PCs with USB connectivity. The device boasts a substantial battery life, with dual 2600mAh batteries facilitating up to 3 hours of continuous printing or 360 sheets per charge. Furthermore, the printer's 90-day standby capability underscores its reliability for frequent travelers and busy students.
The JADENS printer supports an array of document sizes, enhancing its versatility. Moreover, the manufacturer's commitment to customer satisfaction is evidenced by their robust after-sales support and lifetime technical assistance.
Type: Thermal Color/Monochrome: Monochrome Connection Type: Bluetooth, USB Battery: 2 x 2600 mAh Print Media Size: 2 to 8.5 inches
Best for Photos: KODAK Step Color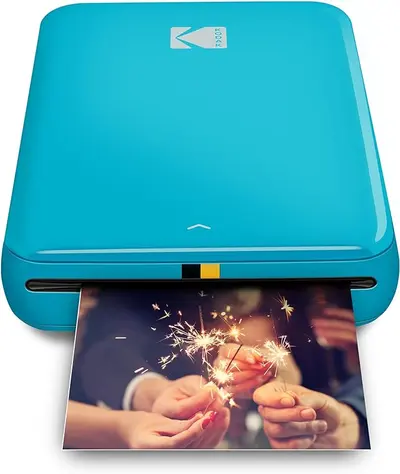 Pros
Ultra-Portable Design
User-friendly App
Good print quality
Fun prints
Cons
Limited to smartphone
Charges via Micro-USB rather than USB-C
App can be buggy at times
As an avid photographer and tech enthusiast, I recently had the pleasure of putting the KODAK Step Color Instant Photo Printer through its paces. This pocket-sized printer promises to bring your digital memories into the physical world, and I must say, it does so with charm and ease.
Upon unboxing the KODAK Step, its compact and vibrant design immediately caught my attention. Available in a selection of cheerful colors, I found it not only visually appealing but also remarkably portable. It's small enough to fit into a coat pocket or a small bag, making it the perfect travel companion for instant photo printing.
Setting up the printer was a breeze. With NFC and Bluetooth connectivity, pairing it with my iPhone was straightforward. The lack of USB or desktop support is a limitation, but as a device designed for mobile use, it wasn't a deal-breaker for me. The free KODAK Step App enriched the experience, offering intuitive editing options to personalize my photos before printing. However, I did encounter a few glitches within the app, such as occasional freezing, which I hope future updates will resolve.
The print quality, for Zink technology, was commendable. The 2x3-inch sticky-backed prints had decent color reproduction and clarity, though they couldn't rival the output of higher-end dye-sublimation printers. Still, the novelty of turning my photos into stickers added a fun twist to the printing process.
Battery life was as advertised; I got about 25 prints on a full charge, and the printer maintained its juice well through standby times. The use of a Micro-USB port for charging felt a bit dated, but since a cable was included, it wasn't too inconvenient.
In terms of cost, the KODAK Step sits on the more affordable end of the spectrum. Not only is the purchase price reasonable, but the running costs are also competitive, especially when compared to other Zink printers on the market. This is an important factor for those who print frequently.
Type: Zink (Zero Ink) Connection Type: Bluetooth, NFC Color/Monochrome: Color Paper Size: 2x3 inches Battery Life: Approximately 25 prints per charge Special Feature: Portable, Pocket-sized
Best for AirPrint: Canon TS5320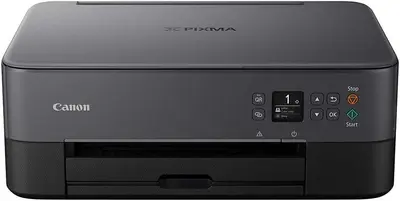 Pros
Excellent print quality
Lightweight design with different colors
AirPrint with iPhone
Smart home voice-activation
Cons
No Automatic Document Feeder (ADF)
Lacks support from SD card or USB drive
High cost per page
If Bluetooth can be used to print easily from your iPhone, it's not the best way to achieve that. Apple developed a feature called AirPrint, it allows iPhone users to seamlessly print any document or photo using any printer that supports AirPrint. The best one I've used is the Canon TS5320.
The Canon TS5320 is a versatile and user-friendly all-in-one printer that fits perfectly in a family or home office setting. Its compact size makes it an unobtrusive addition to any desk, and the stylish color options add a touch of personality. The initial setup with my iPhone was simple, thanks to AirPrint, allowing me to print documents and photos wirelessly with no hassle.
I was particularly impressed with the printer's overall print quality. Text documents came out crisp and graphics were vibrant. Photo printing was impressive for a printer at this price point, with colors that were bright and well-saturated. The auto-duplex feature was a convenient bonus, saving paper and hassle.
On the downside, the lack of an Automatic Document Feeder (ADF) means multi-page scanning and copying can be tedious. Additionally, there's no direct support for SD cards or USB drives, and the two-cartridge system can lead to higher running costs over time.
Type: InkJet Connection Type: Wi-Fi, Bluetooth, USB, AirPrint Print Speed: 13 pages per minute Color/Monochrome: Color Ink System: Four-color, two-cartridge system
Best Wi-Fi printer: Brother HL-L2305W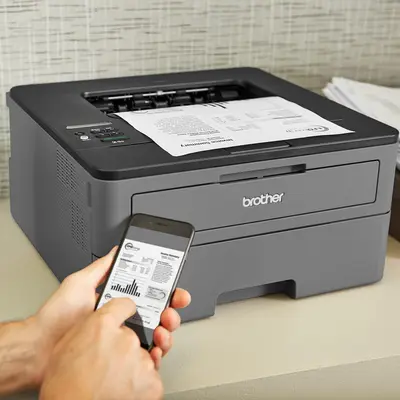 Pros
Fast Print: 24 ppm
High print resolution
Wireless printing from iPhone
250-sheet capacity paper tray
Compact and durable design
Cons
Monochrome printing
Print only, no scanner
Higher running costs
Another way to print wirelessly using an iPhone is to use a Wi-Fi printer, don't worry you don't actually need a Wi-Fi connection to use it. After extensive use of the Brother HL-L2305W Mono Laser Printer, I really liked this printer and it's probably one of the best I've used.
The Brother HL-L2305W is a dependable and efficient mono laser printer, particularly suited for home or small office environments. Its compact design makes it an excellent fit for small spaces, and the build quality feels robust, ensuring durability.
The printer's setup process was straightforward, and connecting it to my Wi-Fi network was hassle-free. Printing from my iPhone using the wireless connection was seamless, and the printer quickly became an integral part of my daily workflow.
Print speed was impressive, with the printer consistently delivering up to 24 pages per minute. This speed, combined with the high print resolution of up to 2400 x 600 dpi, resulted in crisp, clear text and excellent graphics. The 250-sheet capacity paper tray was convenient, reducing the frequency of refills, and the manual feed slot was useful for printing on various paper types and sizes.
However, the printer is a single-function device, limiting its versatility compared to all-in-one models. Additionally, while the running costs are reasonable, they could add up over time, especially for those with higher printing volumes. If you need a good printer that you can use from your iPhone, and that you don't need a scanner, then this printer is the best you can choose.
Type: Mono Laser Printer Color/Monochrome: Monochrome Print resolution: Up to 2400 x 600 dpi Printing speed: 24 pages per minute Connection Type: Wi-Fi, USB Paper Capacity: 250-sheet
How to choose the Best Bluetooth Printer for Your iPhone
As someone who's always on the lookout for the perfect tech pairing for my iPhone, I want to share some key factors you should consider when choosing a Bluetooth printer:
Compatibility with iPhone: Make sure the printer offers seamless connectivity with iOS devices. This will ensure a hassle-free printing experience.
Print Quality: Look for printers that deliver high-resolution outputs, especially if you're planning to print photos or detailed graphics.
Portability: If you're often on the move, consider a compact and lightweight printer. Some models are specifically designed for travel.
Battery Life: For portable printers, battery life is crucial. Check how many prints you can get on a single charge.
Ease of Use: A user-friendly printer with a simple setup process is a godsend. Look for models that offer intuitive interfaces and easy navigation.
Additional Features: Some printers offer extras like scanning, copying, or cloud printing. Consider which features are most relevant to your needs.
Cost of Consumables: Ink cartridges and special paper can add up. Consider the ongoing costs, not just the initial price of the printer.
Size and Design: A printer that's aesthetically pleasing and fits well in your space can be just as important as its technical capabilities.
FAQ
Can any Bluetooth printer work with an iPhone?
Most modern Bluetooth printer are compatible with iPhones, but it's always best to check the specifications to ensure compatibility.
Do I need special paper for these printers?
Some portable or photo printers are may require specific types of paper, like Zink paper for inkless printing. Standard printers typically use regular paper.
Can I print directly from my iPhone apps?
Yes, many Bluetooth printers allow you to print directly from apps on your iPhone, including photos, documents, and emails. For some others, you will need to use the provided application.
How do I know if a printer is good for photos?
Look for printers with high resolution and color accuracy. Printers that specialize in photos often provide better quality prints.
Is it easy to setup a Bluetooth printer with an iPhone?
Generally, yes. Most printers offer straightforward setup processes, and many have dedicated apps to simplify the connect and printing.